"I see the entertainment has arrived. Or maybe this is what you're after, hmm? Well she's destined for the arena, I'm afraid, and if there's any of you left when my guards are finished, you'll be next!" — The governess when confronted by the Overlord.
The Everlight Governess is an agent for the Glorious Empire, who has taken control of Everlight and turned it into a resort for the wealthy citizens of the Empire, when they get tired of city life.
She is also seen in the guarded empire building in Everlight, where she decides that Juno is a magical creature.
Later, she is seen in Everlight town in front of the Temple. She is holding Juno captive and says she is destined for the
Empire Arena
. When all of her guards are dead, she says she was only protecting the interests of her guests and is then killed by the Overlord (or alternatively, enslaved). She is also quite similar to a female
Empire Citizen
and the second form of
Senator Drearius' wife
.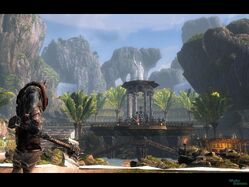 See also
Edit
Community content is available under
CC-BY-SA
unless otherwise noted.